HOME
STILL LIFE
FLORaL
GARDENSCAPE
LANDSCAPE
ITALP SCENES
IMPRESSIONIST
CLaSSICAL
ORIENTALIST
WILDLIFE
ORDER FORM
FRAMES
Western Art
In addition to original oil paintings, we paint museum quality reproductions of famous painting.
Renaissance Gallery provides an oil painting reproduction service. We paint museum quality reproductions by hand, ranging from Classic to Contemporary, Renaissance to Impressionism (landscape, floral, romantic, still life, seascape, and more). If you, do not find your masterpiece, email your request, we will paint from your art print or poster.
Classical – Neo-Classical – Old World (1 of 41)
… many others available.  If, you do not find the masterpiece that you seek, email us your request. We can also paint from your art print or poster.
Fine quality hand painted reproductions of the great masterpieces by
Classical & Neo-Classical Old World Masters:Carl Frederic Aagaard, Lawrence Alma-Tadema, Albert Bierstadt, William Adolphe Bouguereau, Antonio Canaletto,
Pierre-Auguste Cot, C Edmund Daux, Jacques-Louis David, Sir Frank Dicksee, Arthur Drummond, Asher Brown Durant, Luis Recarrdo Falero, John William Godward, Arthur Hacker, Conrad Kiesel, E Blair Leighton, Lord Frederic Leighton, Albert Joseph Moore, Thomas Moran, Cornelius van Spaendonck, Joseph M W Turner, Diego Velazquez, Johannes Vermeer, John William Waterhouse, and others.
Miscellaneous in-stock Old World Style Paintings 1 of 2
Click on each Image to Enlarge the Photograph of that Painting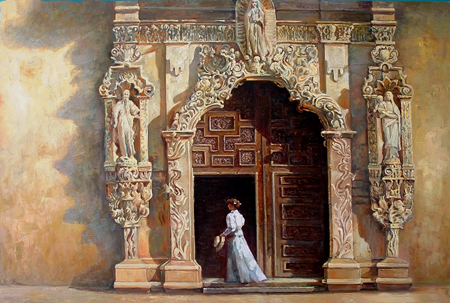 Mission San José y San Miguel de Aguayo Portico                         Edward Davis
 Item # ARC1004                     Sizes: 24 x 36 inches        Price:  $1298                In-Stock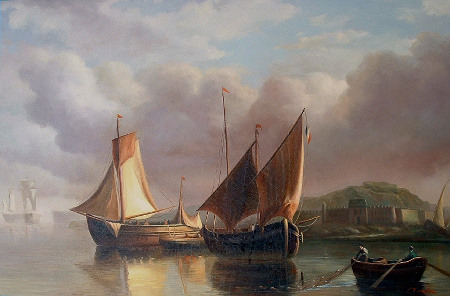 Old World Fishing Boats C T Wicke
Item # OW1001 Sizes: 24 x 36 inches Price: $998 In-Stock